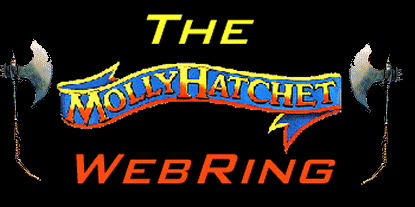 ---
Welcome To The Molly Hatchet WebRing Homepage!
---
WHAT IS A WEBRING?
A WebRing is a system used for linking similar sites of the same topic or interest. Through navigation links found most often at the bottom of member pages, visitors can travel all or any of the sites in a ring. They can move through a ring in either direction, going to the next or previous site, or listing the next five sites in the ring. They can jump to a random site in the ring, or survey all the sites that make up the ring. Also, sites in a WebRing collect more hits to their sites.
---
FOR YOUR SITE TO QUALIFY:
1.) Your page has to be, in some way, related to Molly Hatchet.
2.) You have to put the required HTML fragment on your page within 5 days of sign-up.
---
HTML FRAGMENT
In The Molly Hatchet WebRing, each site is required to put an HTML fragment on their page. When you fill out the submission form(below), you will be taken to a page with your HTML fragment on it. It will also be e-mailed to you. All you have to do is copy it, then paste it on your HTML for your page. As soon as I see it on there, your page will be inserted into the ring.
HERE IS WHAT IT WILL LOOK LIKE!
---
WANT TO JOIN?
Thanks For Joining!
Any Questions Or Comments?
E-MAIL ME!